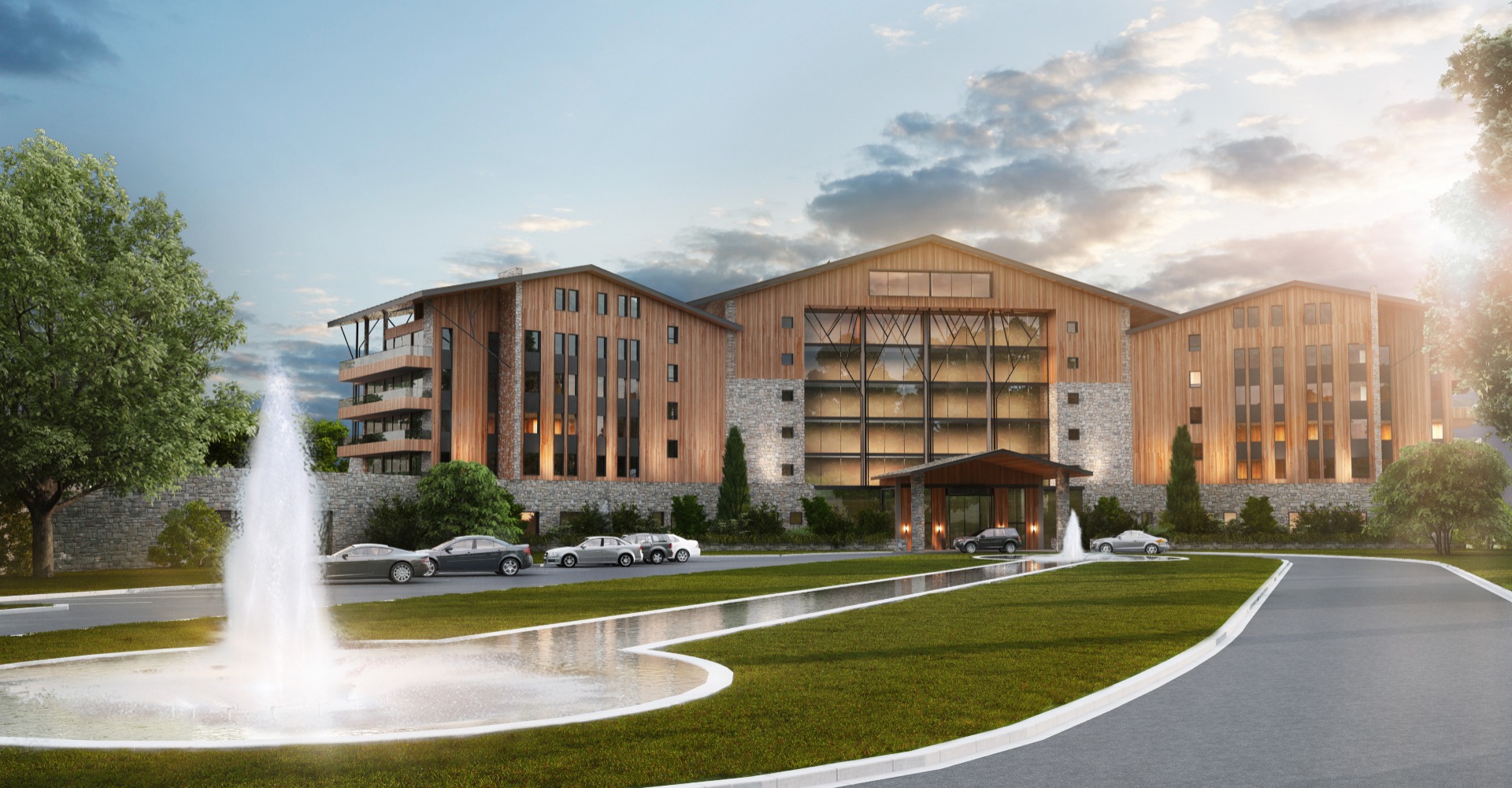 ---
Cyprus Health and Wellness Resort (CHWR) aspires to become the flagship of the Health & Wellness Tourism in Cyprus.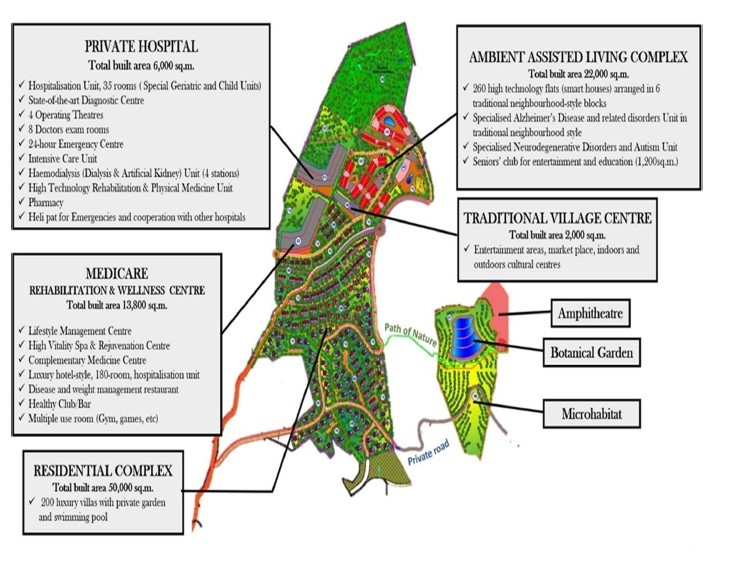 General Description of the Project
The major components of the CHWR include a 6,000 sq. metres state-of-the-art hospital with 4 operating theatres; a 10,800 sq. metres superlative Medicare Rejuvenation Centre with 180 super luxury, hotel-style rooms; a 3,000 sq. metres Health & Wellness Centre which includes a high vitality Spa, a highly specialised Lifestyle Management Centre and a Complementary Medicine Centre; a 20,800 sq. metres Ambient Assisted Living Resort for Seniors, consisting of 260 high technology ("smart") houses, allocated into small-scale, "pocket" neighbourhoods, equipped with Nursing Stations, Doctors Examination Rooms, and a 1,200 sq.m. Entertainment Club with a Game Centre; a 24-hour Emergency Centre with ambulance service and helicopter-pat; and a Village type cultural commercial and recreational centre. All components shall be located at walking distance and shall be offering a multitude of commercial and recreation services. The Resort is complemented with 372 villas for sale, all with private gardens, swimming pools and panoramic views and at walking distance from the facilities of the Resort. The Resort shall also include a substantial number of cultural facilities, including an amphitheatre, a botanical garden, a Birds' refuge etc.
In this distinctive Health & Wellness Ecological Resort of the Eastern Mediterranean visitors and residents shall enjoy, in a setting of renewal, healing, energy and spirit, a multitude of tailormade fitness and wellness programmes, including physical activities, informal health and lifestyle educational lectures, cooking classes and many more. A network of bicycle routes and nature paths shall offer nature lovers great opportunities to exercise their bodies and mind while discovering the beauty and history of the Cyprus scenery.
The CHWR shall be constructed in on a land of 235,000 sq.m. , near the Kalavasos dam and 17 Km from the town of Limassol, in an area of exceptional beauty with superb mountain and dam views, within a health-promoting, low humidity and pollution-free atmosphere, an ideal setting for such a project.
The CHWR is an innovative Sustainable Tourism Resort, with Accessible Tourism infrastructure, which focuses on new forms of tourism that encourage more balanced living and "green" holidays, and improve health and wellness, away from polluted urban environments.
The new forms of Sustainable Tourism belong to the Special-Interest group as promoted by the Cyprus Tourism Organisation. These include Health Tourism, Wellness Tourism, Third Age Tourism, Ecotourism, Recreational Sport Tourism and many other, more specialized, forms such as Wildlife Tourism, Adventure Tourism etc. the Project shall fully comply with the Sustainability Criteria, set by the European Union, United Nations, UNESCO and the Cypriot Authorities.
CHWR aspires to become the Eastern Mediterranean's leader in Healthy Living offering innovative approaches to promote health, prevent disease, and delay/reverse ageing. As a pioneering project, the first in Cyprus and the region, it aims at being at the forefront of the introduction of the concept of Integrated Healthcare, combining the latest advances in antiaging and restorative Medical expertise and technology with Epigenetics/Nutrigenetics breakthrough approaches and Eastern and Western Natural therapeutic techniques.
The philosophy of the CHWR embraces person-centred values and principles that recognise and accept the whole person as a complex, biochemically unique individual. Concentrating on prevention rather than treatment, the CHWR healthcare approach aims for long-term physical, \ mental and spiritual improvement through a combination of modern medicine with natural medicine treatments supported by nutritional and lifestyle interventions. These shall be carried out by renowned medical specialists, scientists and 3 skilled registered therapists within the strict barriers of a healthy food and lifestyle philosophy in a sustainable, pollution-free environment.
A unique characteristic of the Centre shall be its food and beverage services to be offered by highly specialised natural and organic restaurants, and a health club with natural and organic beverages and snacks bar. Meals shall be based on special tailor-made food programmes, which are scientifically designed by nutritional medicine specialists to each guest's particular health disorder, shall be served both in the restaurant and in rooms. The route to change to a new life shall be strongly supported by the Resort's unique Experiential Learning services, which shall include healthy cooking classes, organic gardening, tailor-made fitness lessons, and informal roundtable discussions on the power of food nutrients and lifestyle practices in the prevention and treatment of chronic diseases.
Running costs of all FHR units shall be significantly reduced, as the Project is designed to use of latest technology renewable sources of energy using the latest European Directives in the energy field.
Green Technologies, Organic Farming and Sustainable Architecture, with the utilization of as much as possible Cyprus natural building materials, are major features of the CHWR and the owners shall promote its designation by the appropriate registration bodies as the first "Ecological Resort" in Cyprus and the Region.
Within the context of the Project's main character as a highly sustainable Health Resort, the Project Architects and Planners have provided for sustainable Architectural Building design with the use of as much as possible Cyprus natural building materials.
The CHWR shall be built in the centre of a network of villages characterised by low economic and social performance, low rates of employment, problems of accessibility, demographic change and depopulation, resulting from outmigration to urban areas. Its central position at close proximity to the surrounding villages is expected to contribute significantly to social and territorial cohesion as promoted by the Europe 2020 strategy.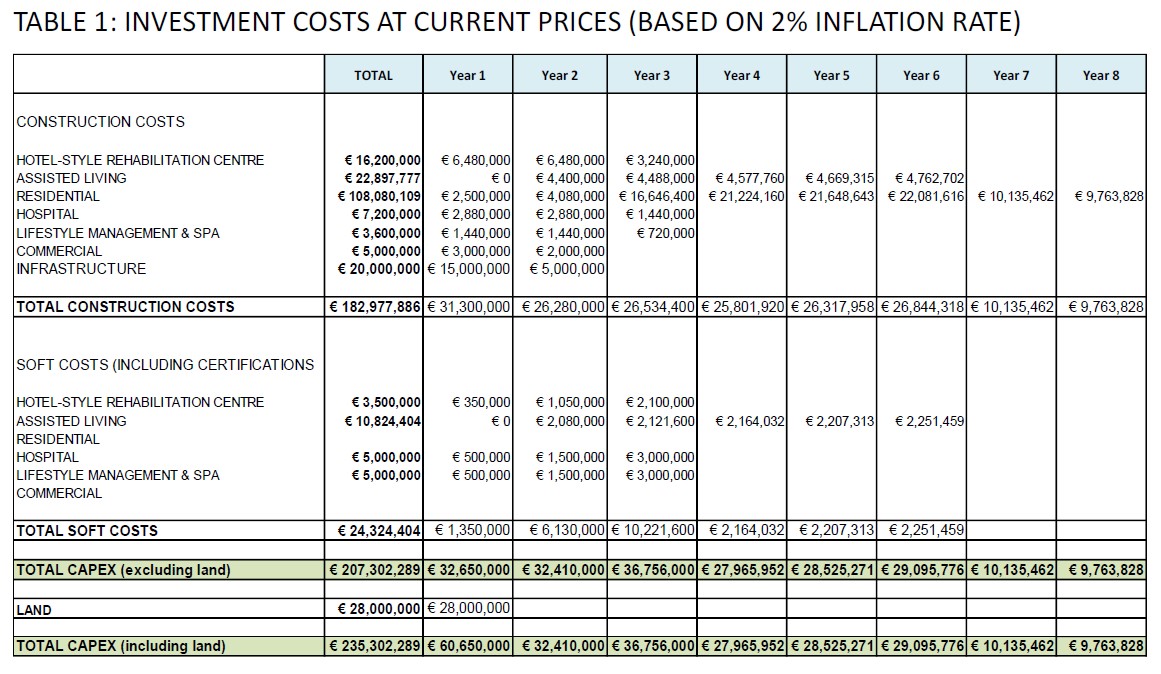 TABLE 2: REHABILITATION CENTRE-TEN YEAR EBITDA
Picture Gallery